King Song S18 Specs & Overview

Top Speed

30mph (16mph at 30% Battery)

Range

30-60 miles

Weight

55 lbs

Battery

84V 1100Wh LG 21700

Recharge Time

6 hours (3 hours with fast charger)

Motor

2200W

Wheel Size

18 x 3

No USB Port

Single 5V @ 2.1A

Shock

DNM Suspension

Travel

100mm High-Pressure

Air Pump

Included

Pedal clearance

110-210mm

Water Rating

IP55

Additional Features

- Aerodynamic air intake system




- Bright rear light




- Bluetooth speakers


Practical Design
Right off the bat, the King Song S18's latest features sport a really cool futuristic design with an aluminum body frame. With spaceship-like angles and a crisp black and white paint job, the King Song S18 looks more like a stormtrooper transport than your average EUC.
On the top of the wheel, there is a trolley handle that is nicely hidden. When you press the top button, you are met with a friendly chirp indicating that the handle is ready to be raised before it extends to its ideal walk and roll height, just like a carry-on suitcase. The pedals feature durable grip tape and also fold up easily on either side and can be quickly deployed by sliding them into the rider-locked position with your feet.
Like many other comparable electric unicycles in its class, it has Bluetooth speakers, dual USB ports, has an IP55 water rating, and a very well-thought-out and bright headlight design. The ergonomic design uses limited wiring, allowing this high-performance wheel to maximize its motor power and achieve its maximum range at top speed. Other key features such as the temperature control fan, automatic sensor, devices safety warning system, and motor kill switch help this KS S18 electric unicycle stand apart from other electric unicycles with sports bike inspired designs.
Everyday Use & Maintenance
Puddles are no problem, but they do make your ride a bit dirtier than one would like which provides the perfect opportunity to test this watertight rating. In order to get this electric unicycle looking good as new, it's as easy as taking it into your shower and giving it a little cold water rinse, no need to worry about a short circuit or damaging the control board. After all the dirt and muck are gone and you've given it a quick pat dry, the electric unicycle is ready to be plugged in to charge. Charging to full battery level will take 6 hours, while a fast charge will only take 3 hours.
Lighting up the night
When riding the King Song S18 at night one can see why this is not only a great electric unicycle option for the day but at all hours and all environments. The front bright headlight has four options, high beam, low beam, all beam, or none. The rear lights also flicker and light up red so that other motorists always know where you are.
Things to Consider
Unfortunately, those good looks do come at a cost. Because of the use of multiple large angled panels, if you do happen to take a nasty fall while riding the King Song S18, there is an increased likelihood that you may break one or more of these panels. They are somewhat flimsy and take the full brunt of any tumble, especially at high speeds.
Now, this wouldn't necessarily be a deal-breaker but as we will elaborate in more detail soon. The King Song S18's new aggressive suspension system, which is amazing in its own right, paired with the center of gravity being higher than usual can be a problem if one is not paying attention. Not knowing how to compensate for all of its power can result in an accident.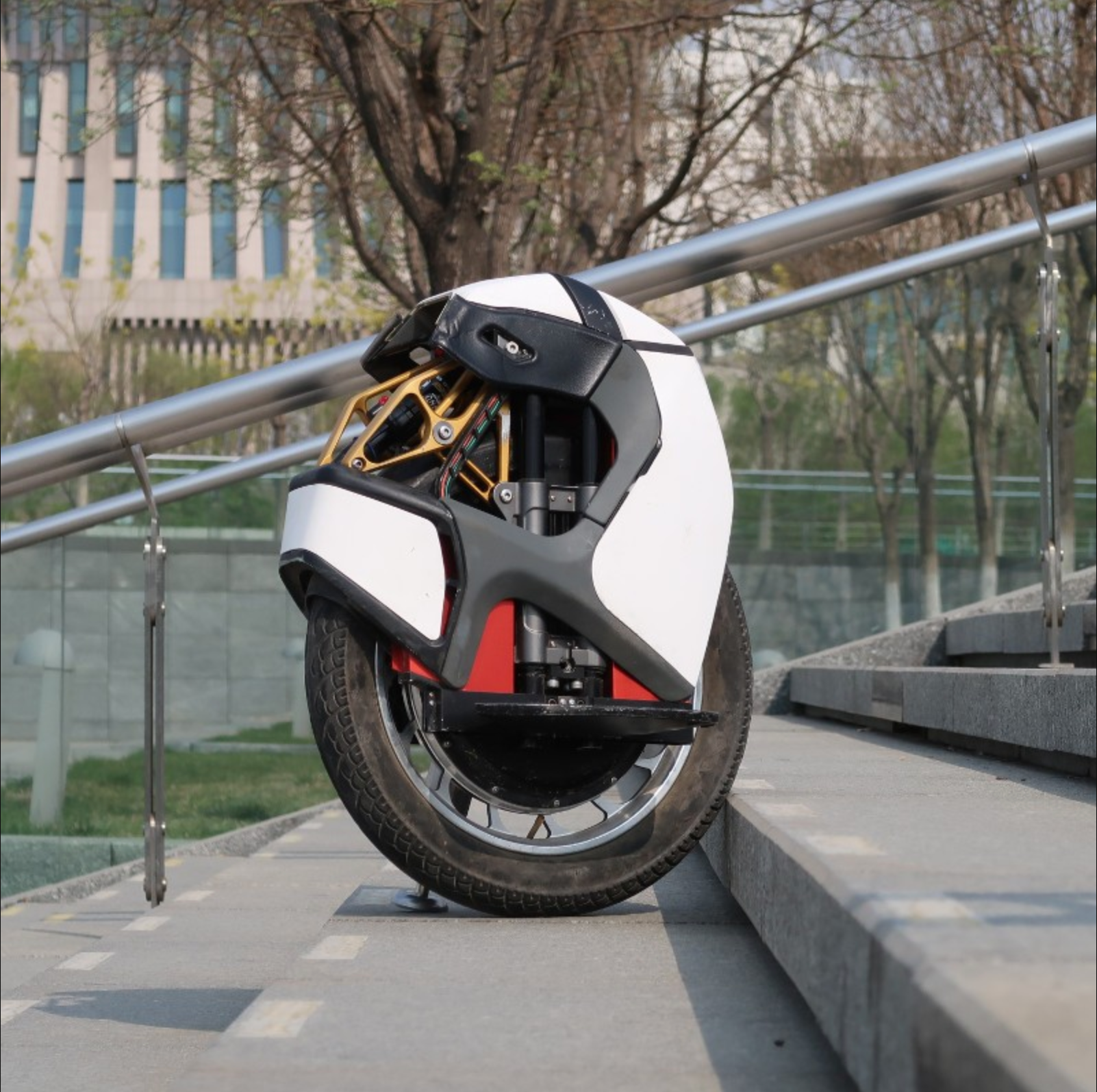 A common phenomenon for riders under 160 lbs the feeling of slight wobbles and increasing instability as they push past the 25-30 mph marks on their commutes. That said, heavier riders needn't worry. On the flip side, the aggressive suspension system is so strong that many other obstacles such as potholes, cobblestone, uneven roads, and even stairs or small jumps prove no challenge for an experienced rider willing to put the King Song S18 to the test.
King Song S18 Built-in Suspension System
This is a main reason one should consider buying the King Song s18 over other electric unicycle models. The King Song s18 is one of the first electric unicycles to offer a full suspension wheel system which dramatically increases its usability and rideability in an array of environments and presents a noticeable change and improvement over less ambitious predecessors.
Before one starts their commute, they can open up the suspension system and easily adjust its responsiveness to the road conditions on hand and the rider's personal preference. As you turn the dial to the right the wheel feels more bouncy, and to the left, the ride becomes quite a bit firmer overall. This flexibility is really nice to have and helps every rider fine-tune their ideal experience.
That being said, the most impressive thing is how little you need to adjust this setting once you have it dialed to your liking. Many riders have reported that they are able to hop up and down stairs, jump off small walls around 3 feet in height, hit small speed bumps, and zoom over a variety of cobblestone pavements with varying degrees of unevenness all without having to further adjust the suspension from the first ride.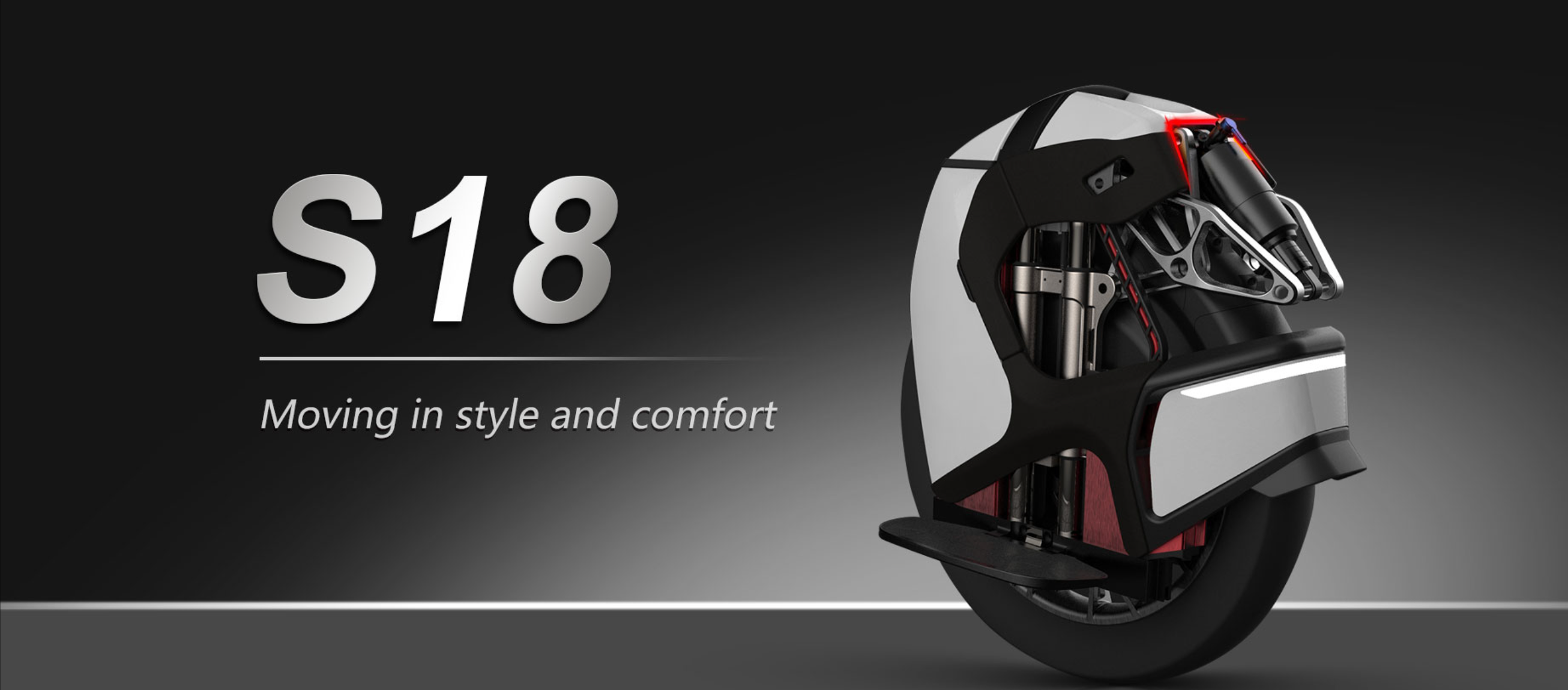 You are also able to adjust the pedal pads to your liking, which is highly recommended if you are trying to get the full experience. Even adjusting them about 1 centimeter up or down can help you find your sweet spot. The difference is immediately noticeable and will help you accelerate and brake with minimal effort. The goal is to feel a symbiotic relationship between the electric unicycle and your feet.
Once you get these settings dialed in and to your liking, not having to worry about making these kinds of changes on the fly is a luxury you don't know you're missing until you have it. That said, it is not advised to make these changes at high speeds, or navigating potholes, manholes, small bumps, cobblestone, uneven roads, and other off-road environments.
With that in mind, these conditions are still no match for the powerful suspension this electric unicycle offers its riders. The suspension is so good that many riders have reported being able to hit a speed bump at decently fast speeds without having to bend their legs at all.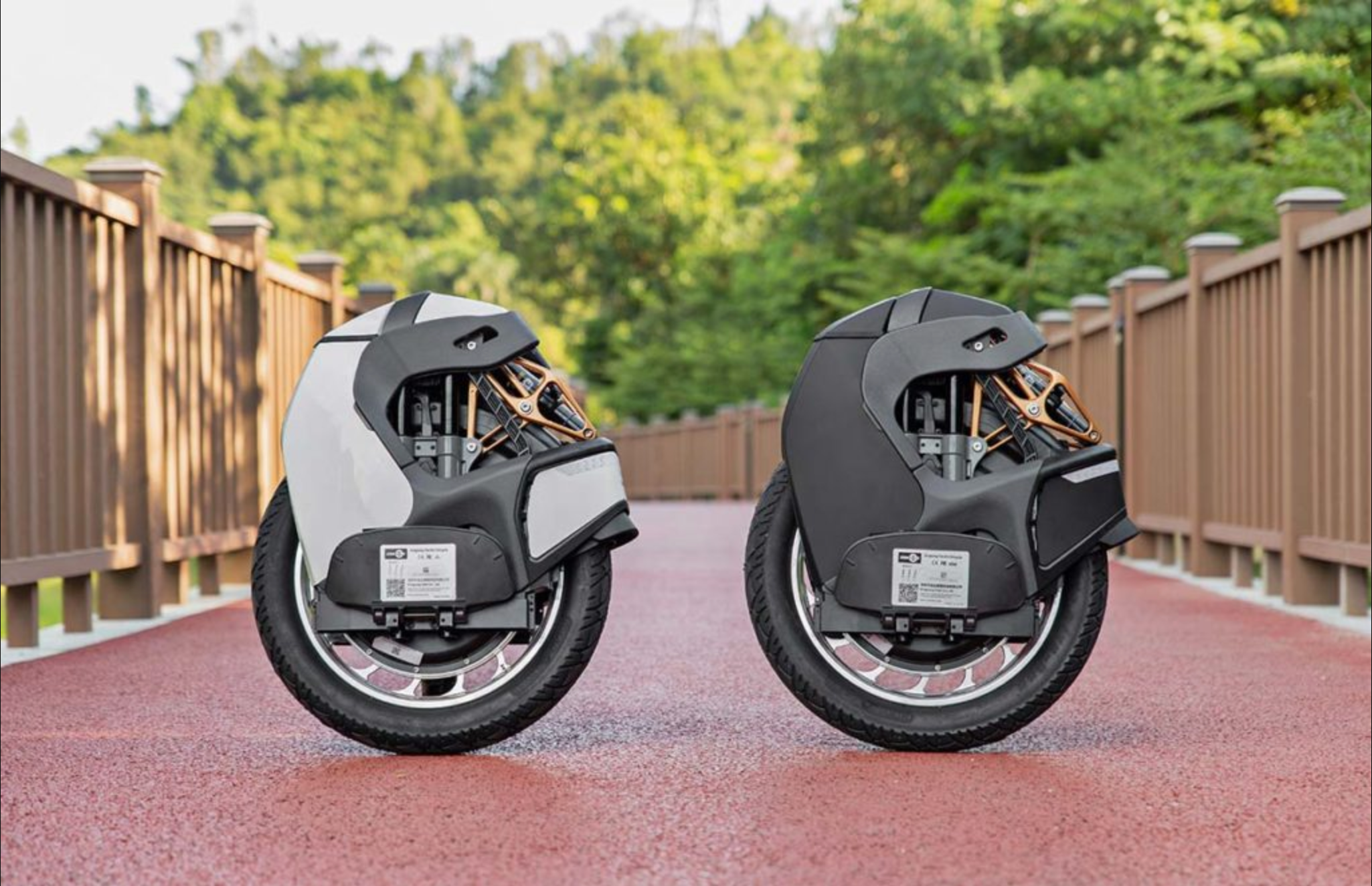 Conclusion
If you live in any city that boasts a variety of different terrains, there are not many EUCs that put their suspensions to use like this one. Without needing to adjust many if any settings, riders are able to seamlessly transition from sandy, dirty, and uneven roads to cobblestone, stairs, and even small jumps.
It is clear that any limitations this electric unicycle faces will be a result of the rider's own preferences rather than what the King Song s18 is capable of doing. Whether you just want to get from A to B in the shortest amount of time or if you want to traverse your own freestyle course on the way to your destination, the King Song s18 gives you what you need to make that choice for yourself.
The biggest danger with this electric unicycle is not the wheel but the rider. You've got to be careful when riding, as this electric unicycle makes you feel like you can do anything. Riders can get a little too comfortable with how forgiving the S18 handles different terrains. Just remember not to get complacent with all that extra confidence and let your guard down. Everyone's riding style is going to be different, especially with a product that is capable of doing it all.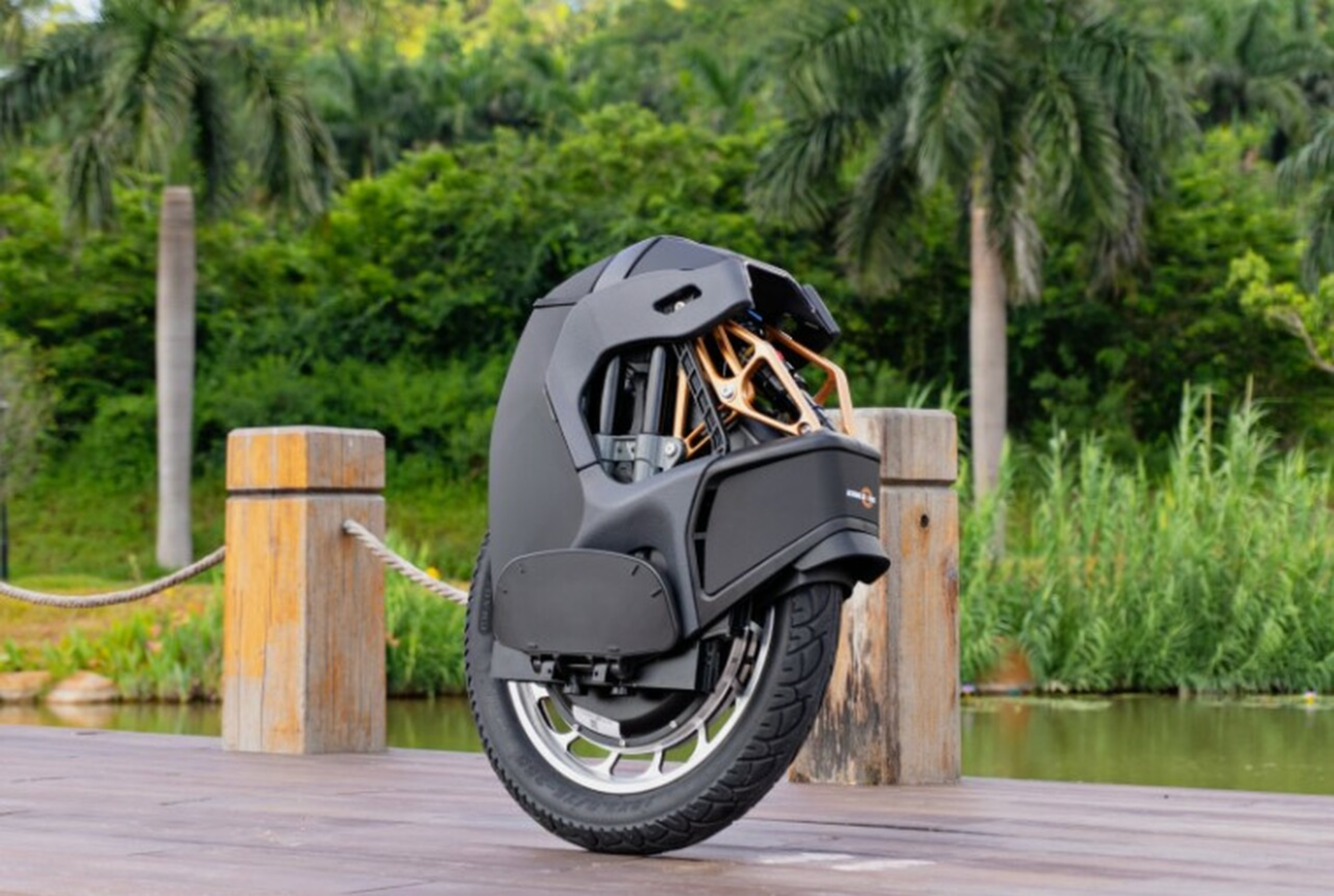 Pros, Cons, and Final Verdict
Even when taking into consideration the cosmetic design faults the King song 18 has, there is no question that at close to $2000 it is a top contender for the best electric unicycles on the market. It's closest competitor, the InMotion V11 is also a very capable electric unicycle that shares many of the King Song S18's positive features.
But the King Song S18's superior suspension makes it a colorful choice for those who want to add a little bit of spice into their commutes. If however a more casual riding style is more to your liking, there are other EUC's that have longer battery lives, higher top speeds, and and more distance to their maximum ranges. It all comes down to how you want to ride and what features you value most in your riding experience. Overall, it's pretty hard to beat the extra thrills the King Song is able to provide if you're up for the challenge.
For more information regarding other kinds of EUCs, check out our Electric Unicycle Ultimate Buyer's Guide!