The latest refresh for the InMotion mid-range line of Electric unicycles
Last year, InMotion released the highly anticipated InMotion V8 which received widespread praise for being an accessible and easy to ride model that was more portable than other higher-end models and came in at a more reasonable price point. The InMotion V8f electric unicycle is an update to that popular model and improves upon the already popular design by improving performance and portability.
With a top speed of 21.7 MPH and a listed max range of 22 miles, the Inmotion v8f is by no means the fastest electric unicycle on the market but creates an affordable entry point that is sure to attract new riders into the electric unicycle community.
The InMotion V8f electric unicycle is priced at $1,100 which is dramatically cheaper than higher-end models such as the King Song S18 or the InMotion V10 which are both in the $2000-$3000 range. The motor and battery system has been improved over the V8, it is quite the hill climber, and overall it is just so much fun to ride.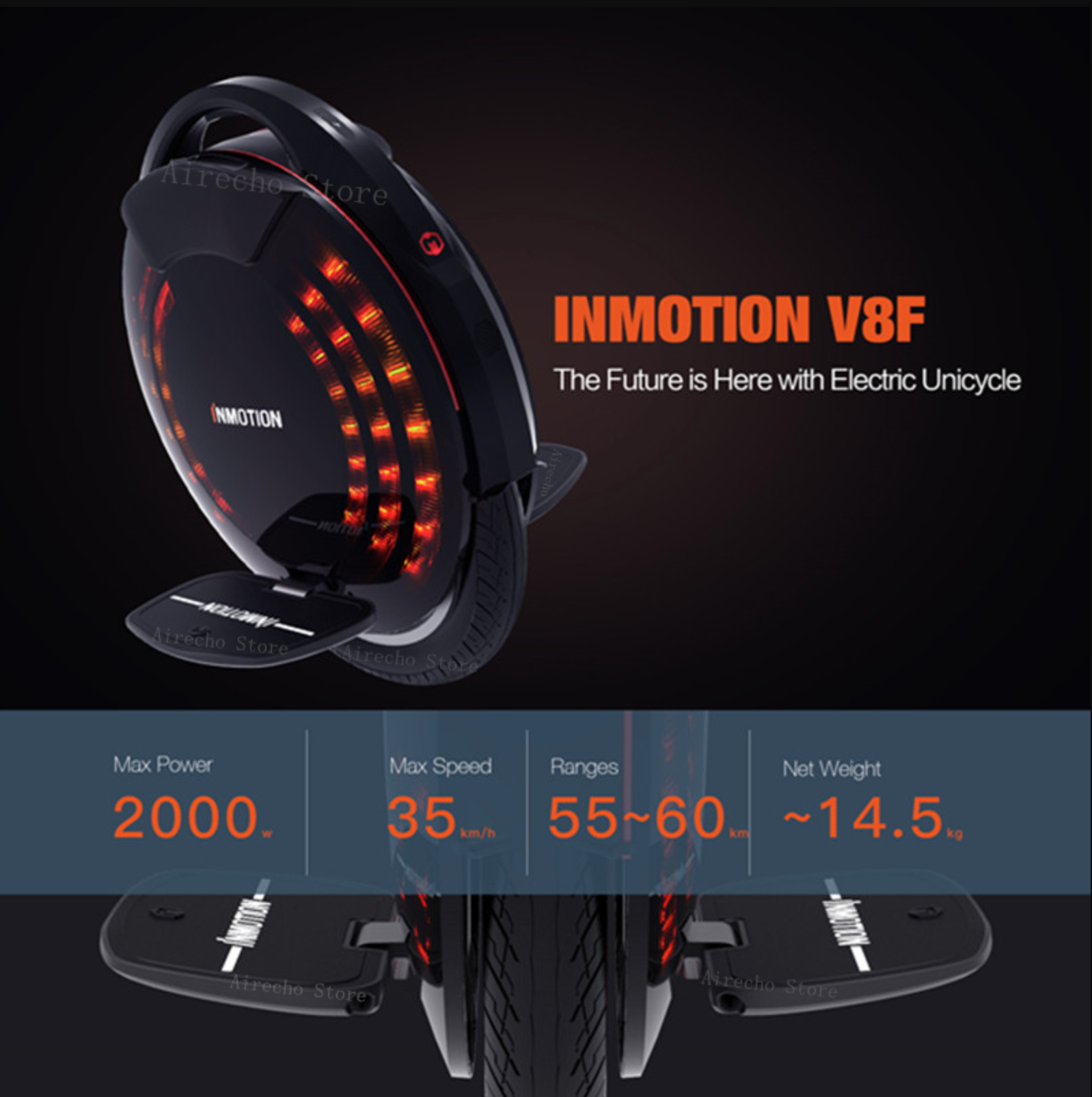 In-depth stat comparison between InMotion V8 and InMotion V8f
The InMotion V8 is feature-loaded with a top speed of 18.6 MPH, a 20-mile range, a 480-watt battery, an 800 W motor, weighs 30 pounds, and has a 16″ x 1.95″ Kenda Tire.
In comparison, the InMotion V8f has slightly better stats across the board with a 21.7 mph top speed, a 22-mile range, a 518 wh battery, a 1000w motor, weighs 32 pounds, and has a slightly wider 16″ x 2.125″ Kenda tire. Although I would argue these new stats are not worth upgrading from the V8 on their own, for anyone who is looking to purchase their first electric unicycle, the V8f is a no-brainer over the V8 at only $200 more.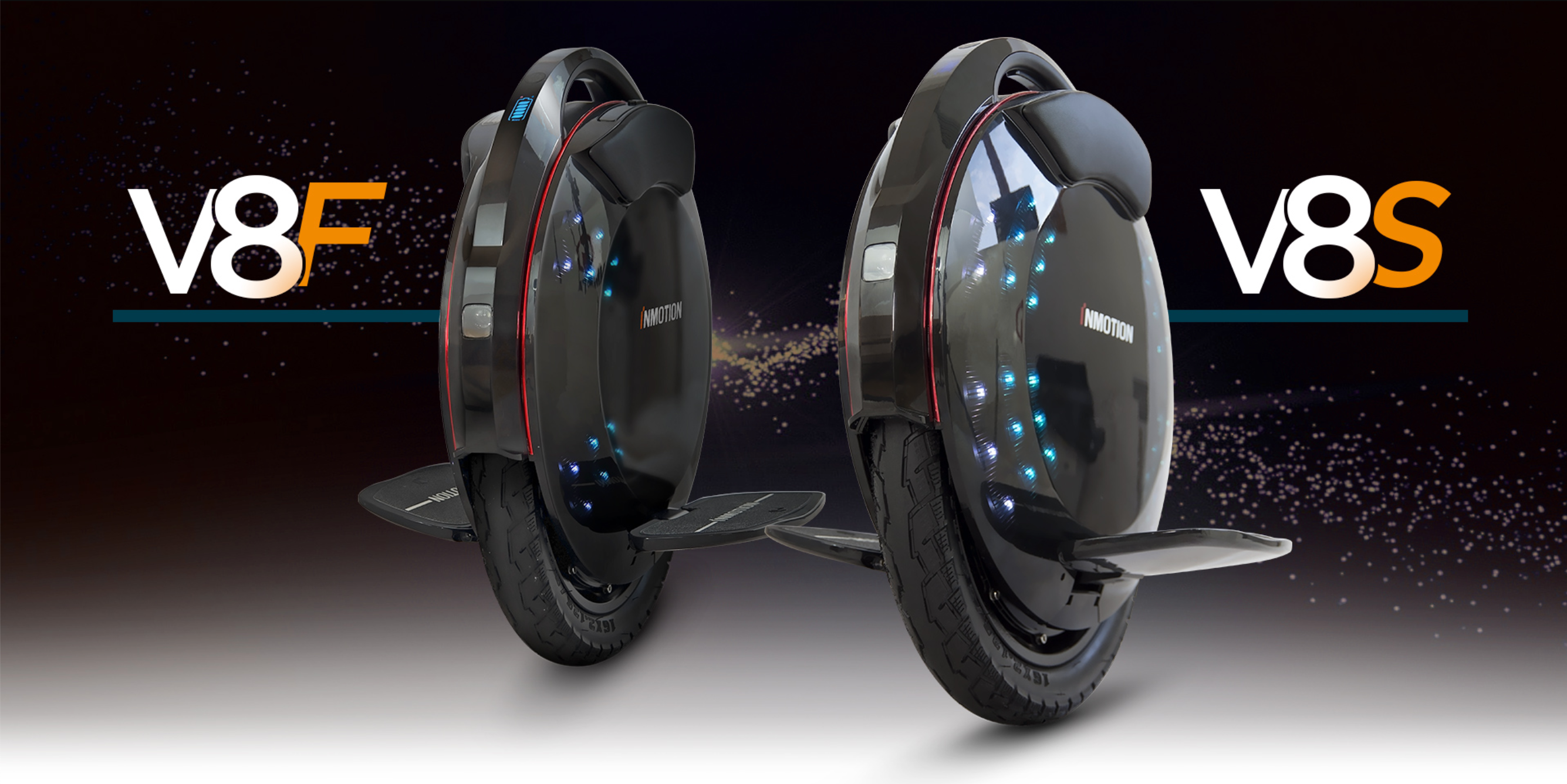 First Impressions of the InMotion V8f electric unicycle
So from a design perspective, the Inmotion V8f looks pretty much the same as the v8 with the exception of a few new features. The footplates have a new design and sandpaper finish which is very similar to the grip tape you would find on a skateboard. The pedals are also larger than the V8's pedals which makes it easier to find your footing while still allowing the tightest turning radius possible. You've also got the trolley angle which is the same as the V8.
The 16-inch wheel is more or less the same size as the V8 with just a slightly wider tire and a very nimble feel. This electric unicycle has no problems when climbing up hills and even performs surprisingly well in a skatepark setting going up and down ramps and small jumps.
The InMotion V8f also has a surprising amount of torque which is honestly comparable to the InMotion V10, so much so in fact that many riders may prefer the portability advantages of the V8f over the higher performance stats of the V10. Like other electric unicycles, the InMotion V8f does have a noticeable electronic limit on the top speed and starts to initiate an intelligent safety tilt as you approach the maximum speed. This intelligent safety tilt is nothing new, but riders who are used to faster wheels might get annoyed when this one starts to kick in at lower speeds than they are used to.
Also, like the V8, the rear light has a got a speaker system for audio warnings such as a low battery or approaching top speed but unlike the InMotion V10, the speaker system does not allow you to connect your music via Bluetooth which may or may not be an issue for you.
There is a charge port on the back with a rubber flap that keeps it nice and waterproof and the power button as well as the anti-spin button are nicely sealed and flush with the overall body design. The exterior looks sleek and professional with a piano black shiny finish but it will scratch if you fall. The charge time is about six hours which should be reason enough for you to charge back up to full once you reach your destination before beginning your commute home.
The InMotion V8f also has side led lights for increased visibility, as well as built-in leg pads, magnesium alloy pedals, and all the great features you would expect from an eclectic unicycle that knows how to balance ample torque, incredible maneuverability, and responsive acceleration. The front and rear lights are quite visible overall. Although the front headlight could be better and I would recommend that if you are planning to ride the V8f at night or in low visibility conditions you purchase an additional helmet light so that you can clearly see everything on the road.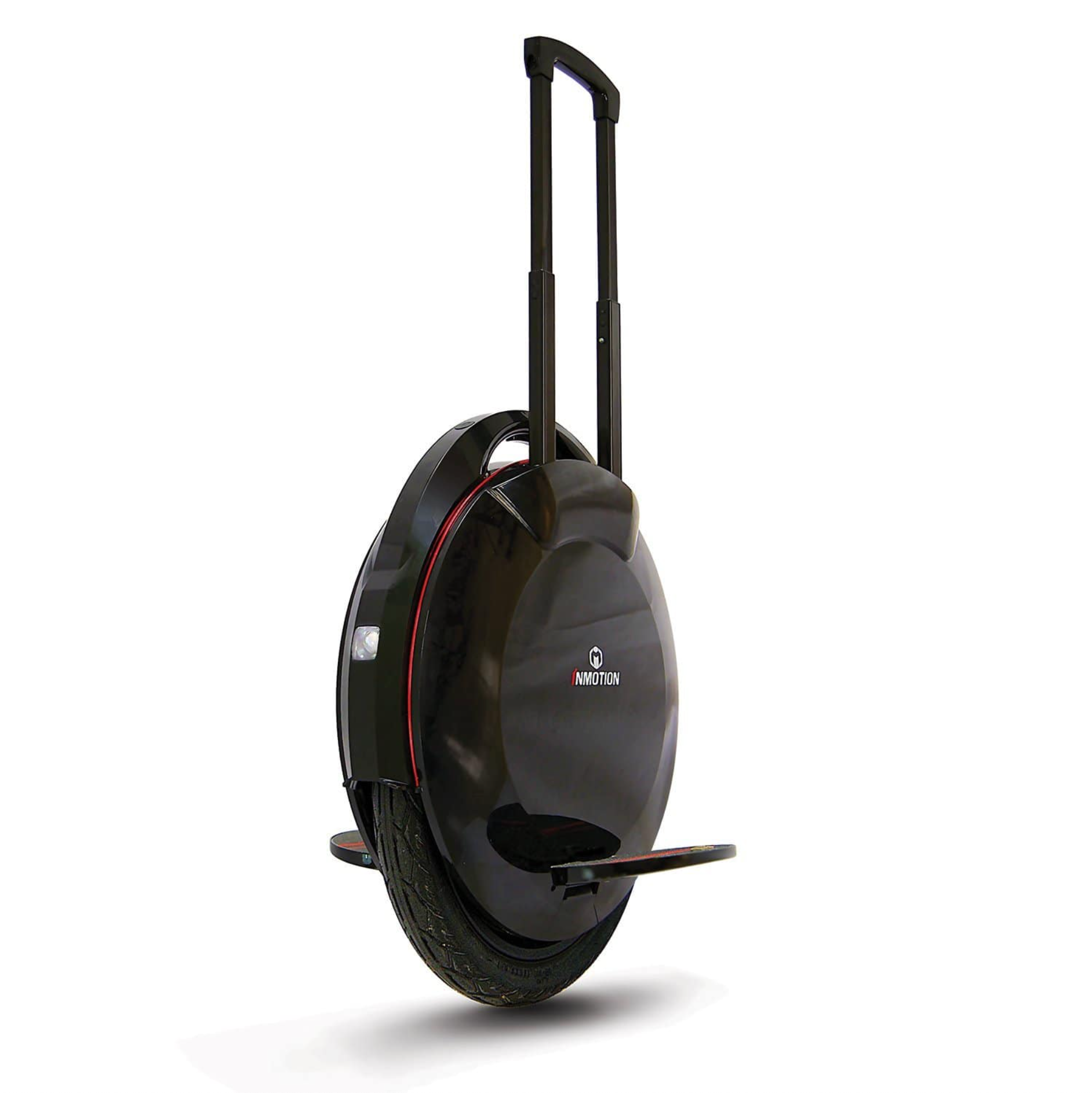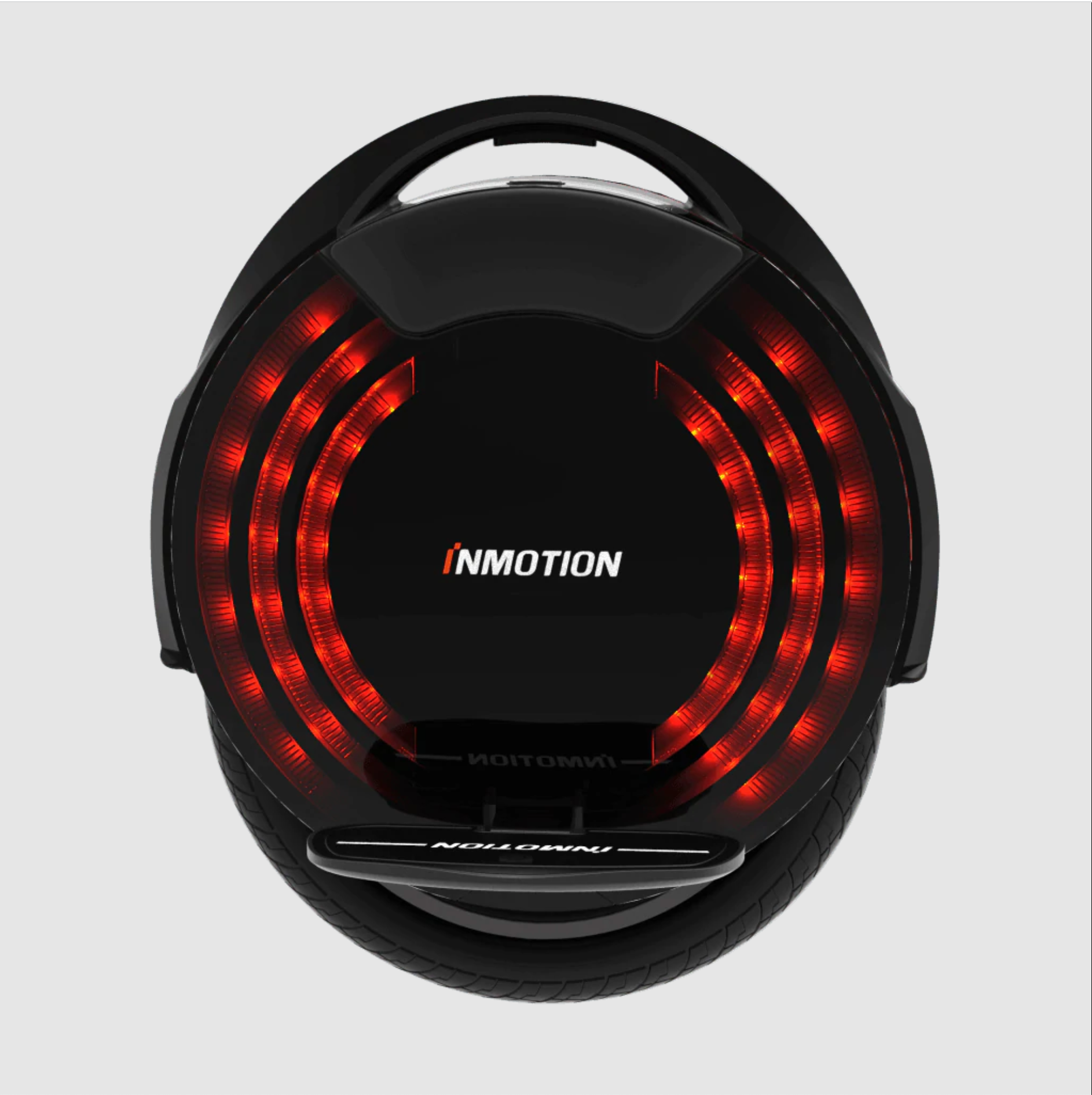 Why the InMotion V8f is Perfect for New Riders
It can be very intimidating knowing exactly where to start when purchasing your first electric unicycle and Inmotion has worked hard with this model by making both the riding and purchasing experience as easy as possible for those with little know the experience. First off, the relatively light weight of this electric unicycle is much lighter than the Inmotion v10 and as a result, makes it very easy to carry it up and downstairs.
If you are planning to use this electric unicycle as a part of your daily commute in a city like New York for example where you will constantly be lugging this one wheel up and downstairs in crowded subway stations and that lightweight will start to make a big difference on your daily experience.
The InMotion V8f like other popular models also has a retractable trolley handle which is a must for any electric unicycle as it makes it super easy to wheel it just like any regular old suitcase. Although the built-in handle feels a bit sturdier on the InMotion V10 and the King Song S18, both of those models weigh in at over 50 pounds and can really start to be a pain if you constantly have to carry it around with you.
The super-lightweight design of the InMotion V8f also has its perks when it comes to its overall agility. Testing it out on city streets, one can easily swerve in and out of pedestrians while still feeling safe riding in traffic on the streets.
Overall, the V8f is incredibly smooth and for first-time riders who are still getting used to the feeling of gliding over the pavement, the Inmotion V8f electric unicycle seems to be a much better entry point than something that has too much power than one would know what to do with. The magnesium alloy pedals are also a really good size and will fit most people's feet very well.
They aren't the largest pedals we have seen, but overall should fit most people's feet and feel very comfortable. When making tight turns, the magnesium alloy pedals can scrape but the pedal sensitive adjustment does help with this.
Potential downsides to consider
Besides the obvious stat discrepancies between the Inmotion v8f electric unicycle and other higher-end models, the one thing that I would argue holds this electric unicycle back is its range. Like most other batteries in various electronic devices, the battery system in the InMotion V8f suffers from poor thermal regulation which can result in its range being significantly shortened in cooler weather.
Whether this is a problem for you depends entirely on your location and the length of your commute. For those of you in sunny Southern California for example the InMotion V8f should hold up just fine but for those of you trying to squeeze a longer commute in a city like New York in the middle of winter, the battery system could easily function at half capacity and require you to find a midway charging station if you are unable to safely charge it at your destination.
Although the InMotion V8f electric unicycle is not advertised as being an offroad one-wheel, many riders have reported no problems riding on semi uneven surfaces such as cobblestone and hard-packed dirt paths as well as though inclement weather like light rain or even light snow. However, unlike the InMotion V10 or the King Song S18 which are built with better shock absorbers, more powerful motors, and sturdier wheels, I would not recommend taking this electric unicycle wheel on hiking trails, sand, or any other offroad trail conditions as it just won't hold up like the more expensive wheels.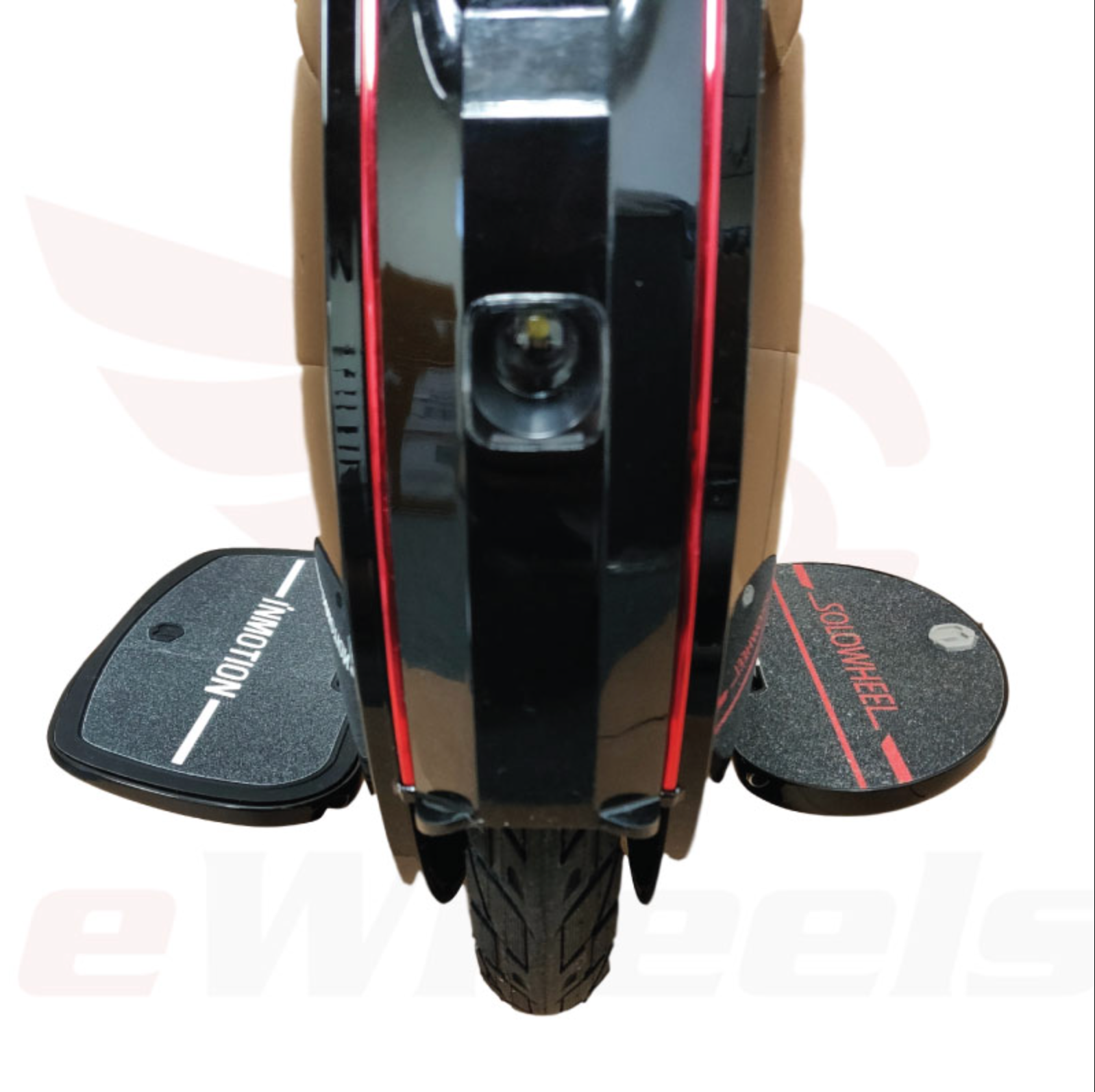 InMotion V8f: Durability and Usability
The InMotion V8f is quite durable and can take a beating which will inevitably happen especially if this is your first electric unicycle. If this is in fact your first electric unicycle, I would recommend putting some tape around the sides to protect them a little bit more against minor scratches. One feature that is quite interesting about the InMotion V8f is how easy it is to disassemble. If you are not comfortable with getting dirty underneath the hood, this is the one wheel for you as there are only two screws on the bottom and all you have to do is rotate the panels and you have full access to the inside of the wheel.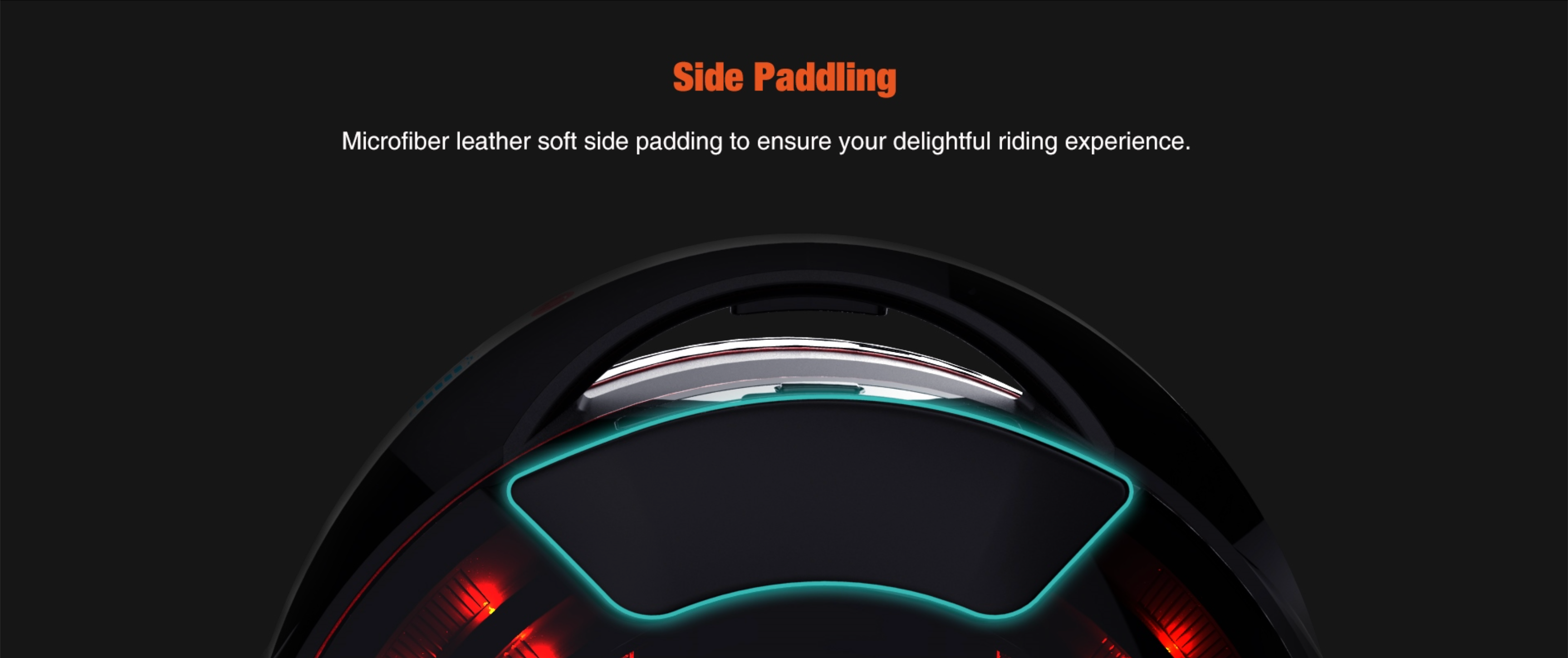 Advantages of using the Inmotion app
The V8f also comes with the Inmotion app that works really well and makes customizing this electric unicycle a very pleasant experience. If something goes wrong internally, you can run a diagnostic that will tell you information like the motherboard needs to be replaced which is very convenient for quickly diagnosing a problem. The InMotion app also allows you to easily switch between two ride modes, classic or comfort.
I have to say that I believe the InMotion v8f is the best wheel if you are a new rider or more concerned with portability than you are with performance. If you are a speed freak you, are definitely going to be constantly reaching the very top end of the wheel's speed which is why I feel that the comfort mode is the best model on the V8f.
On the comfort mode, the pedals are completely flat so they don't bend front and back and it's much more comfortable for your feet. This is perfect if you are just trying to ride around with some friends and don't care about hitting the stop speed which gets throttled with increasing tilt-back anyway. Having the InMotion app really is a great plus because other models such as the V10 require you to manually adjust these settings which can be a real pain when constantly going back and forth.
Final thoughts
We've covered a lot on all the ins and outs of the InMotion V8f and if there is one thing to take away from this review, it is that a more expensive price does not always equal a more enjoyable riding experience. If the InMotion V10 or the King Song S18 is the Porsche of the electric unicycle market, the InMotion v8f is the Honda.
If you've never driven a car before, you don't start with a Porsche. And if you just want to get from A to B, both cars will get you there in one piece. Although my car comparison may imply to some riders that the InMotion V8f is less prestigious, I will conclude with one important counterargument.
InMotion, King Song, and every other electric unicycle company are releasing new and improved models quite regularly and if you are new to the sport, I guarantee that you will want to try a few different models over the course of your first few years riding.
It is inevitable that you will fall and quickly develop your own preferences of what you desire most out of your riding experience. At $1,100, the Inmotion v8f is about as good of an entry into this sport as you are going to get, striking just a great balance between affordability and a fantastic riding experience.
For more information regarding other kinds of EUCs, check out our Electric Unicycle Ultimate Buyer's Guide!