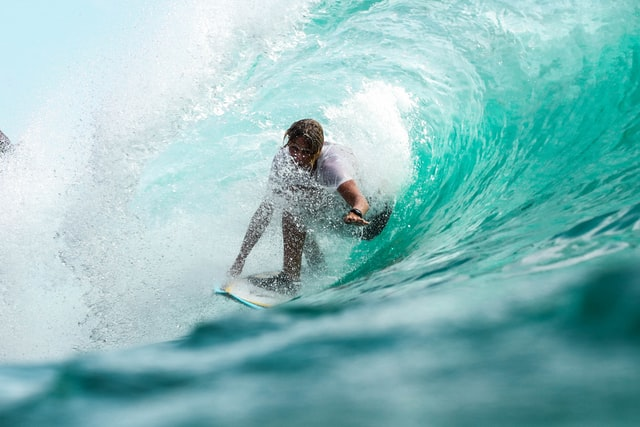 If one term can define the illustrious Radinn brand, it's certainly "cutting-edge". Radinn Jetboards designs and produces top-quality electric, motorized surfboards and supporting products. Radinn's products can be purchased in surf outlets in the US and 87 countries in total around the world.
The company has an impressive range of products, informed by a strong environmental ethical ethos to make sure their surfboards do no harm to nature. The brand is also high-tech. Lots can be done via the loT cloud-system and Radinn app.
Onwards and upwards is the only place for this enterprise to go!
History of Radinn Jetboards
Radinn has been making waves in the surf industry since the brand's inception in 2013. It's the first mass-producing company making jetboards in todays motorized surfing market.
The start-up began as a Lund University student's engineering project and has since exploded into an international sensation.
Going Green
The original Radinn jetboard concept was to design and produce eco-friendly versions of the gas-driven models that were available at the time. The first Radinn prototypes were launched in 2015, after rigorous design and development processes.
The company's Generation I, II, and III (2020) followed after this initial milestone.
Going Digital
2018 marked new innovations for Radinn. They digitized their jetboards with loT integration. The cloud-based operating system lets board owners download advanced specs and software upgrades for their boards. The team continues to develop this technology.
Teamwork
The Radinn team consisted of just eight engineers in 2018. That number has exploded to 50, plus its other employees.
Alexander Lind may be the founder of Radinn, but he insists teamwork is the key to the company's survival. Other powerful counterparts to the business involve chairman Magnus Wide, CEO Mathias Bergman, and Vice President Calle Håkansson.
Radinn Jetboard Product Lines
Radinn's ground-breaking products make it possible for riders to surf even if waves are small. Riders can also explore calmer water site types like bays and lakes. Riders can enjoy a motorized surfing for up to 45 minutes per charge.
The Radinn jetboard products are well-designed, and usually have a durable undercoating for hull protection. They come in arctic white or elemental colors, and have remote software tech.
Board prices range from $1875 to $4645, excluding configuration items, i.e., jetpack and batteries.
There are several models available, including the Radinn Carve, Freeride, and X-Sport. –
Radinn Board Models
Freeride Elemental Electric Surfboard
It's also a highly agile Radinn jetboard product, which gives quite the adrenaline rush!
Features
Weight: 47.9 kg
Dimensions: 1901 x 779 x 166 mm

Hull designed to ride easily through choppy waters

Reaches up to 52km/h with premium configuration
Charger lasts from 30 to 45 mins depending on custom configuration choices     
Reliable water jet setup
Built in bumper
Battery-powered
Pros
Lightweight
5 stars for agility and control
4 stars for versatility and speed
Affordable on lower configuration specs
Cons
3 stars for durability
Price is quite high on premium configuration specs
Verdict
The Freeride Elemental Radinn board is a great choice for most riders, whether you're just getting into motorized surfing or are a veteran. This is because the board is designed to be easy to use for both beginners and more advanced riders. This means you won't have to buy any new electric jetboards when your skills develop.
The Freeride Elemental's also got great agility, which will put a big smile on your face.
Specs
Weight: 45,6 kg
Dimensions: 1901 x 779 x 101 mm
Reaches speed of up to 56km/h
Enough ride time: lasts 30 to 45 min depending on jetboard setup, i.e. customized configuration performance choices
High impact quad fin and hull design
Designed for durability
Battery-powered
Pros
5 stars for durability, versatility, and speed capability
4 stars for agility
Affordably priced
Cons
Lower rating for agility than others, but still, 4 stars is still good
Verdict
This board is a fantastic choice for adventurous and newbie electric board riders, or those wanting to push their own and the board's boundaries. With its high ratings in most boxes, it's a real win.
Features
Weight: 47.9 kg
Dimensions: 1901 x 779 x 166 mm
Top speed of 56km/h on premium configuration
Experience 30 to 45 minutes ride time per charge depending on jetboard setup
Superior hull design to cope with chop
Versatile design
Battery-powered
Pros
5 star ratings for versatility and speed
Suitable for beginners and pros
Cons
Slightly heavier model
Only 3 stars for durability
Rates lower on agility
Verdict
With its heavier body, and lower durability and agility ratings, this board may not be your first choice. It still has a cutting edge design and is easy to handle in-water for riders.
Carve Phantom and Carve Tarifa
The electric Radinn Carve and Tarifa surfboard designs are created with advanced tech to make them more responsive and easily controlled by toe and heel manipulations, allowing instant pivoting. This makes for full control, faster and deeper turning.
Specs
Weights: 45 kg
Dimensions: 1780 x 630 x 160 mm
Top speed of 52km/h
Cruises for 30 to 45 mins 
Reliable water jet tech
Battery-powered
Pros
5 stars for agility and responsiveness
4-star ratings for pace and versatility
Perfect balance
Cons
Only 3 stars for durability
A bit slower
Verdict
With their high responsiveness and agility, the Radinn Carve and Tarifa electric jetboard models are ideal for the most seasoned riders looking for better board control in their rides. For pros, these extremely powerful boards make for the ultimate Radinn experience.
As the boards are a bit less durable than other Radinn jetboards, they are also less suitable for beginners, who may make mistakes while learning. Experienced riders will love them.
Jetpacks
Riders can choose from a range of jetpacks to power a Radinn electric surfboard. They can select a G3 standard powerpack, which is suitable for beginners, or a G3 pro jetpack, which is more suitable for advanced riders who want to cover a long range.
Clients can also get a standard powerpack and advanced jetpack upgrades, the latter of which offer more range.
Chargers
Riders can choose from an array of Radinn devices to power up their battery packs. The US and EU speed charges are ideal, as they charge your board in just 2.5 hours. The standard charger is also good value, but it takes a bit longer – 8 hours – to charge your jetboard.
Radinn also makes and sells a universal charger.
Batteries
Radinn makes and stocks advanced water sports battery solutions. Customers can choose from a standard and extended range battery pack for their jetboards. The battery delivers
The extended range battery pack comes highly recommended as an advanced water sports battery option. This option has superior battery charging power and is mobile.
Radinn Accessories
Radin also sells a range of accessories. Buyers can get anything from leashes to board bags, and everything in between. Some of the accessories the company makes and stocks include:
Wireless Hand controllers
Jet impellers
Board Bag Carves
Boardbag Explore/Freeride
FCSII Fin sets
Board leashes
G3 Strap kit packages L-XL
G3 Strap kit Packages S-M
Starter Straps
Radinn App
Radinn also created an app to give their customers an even better experience. Through the Radinn app, jetboard owners can power their boards up or down, and set goals for their rides. You'll find all sorts of options, such as wireless updates, ota upgrades, and other remote options and other technology needed in the settings menu.
There is also loads of content to read or watch so that riders get the most out of their jetboarding experiences. Riders can also connect with other jetboarders to chat about the sport and make like-minded friends and connections.
Where Radinn's Headed
Radinn's future is, of course, all about continuing to create cutting edge jetboards and supporting software and apparel, but it's also about creating surf communities.
Currently, Radinn is testing out a surf club concept in Hollviken and Stockholm. As access to test-ride the jetboards has been limited till this point, the company has decided to try to make the products more available to more people in 2022. The club is also designed to create a community, thereby connecting people with similar interests.
The Hollviken venue is a fixed set up, with a restaurant next door for refreshments and socialising. The Stockholm club is a mobile set-up, which you can request to be moved to a surfing location of your choice.
The Verdict
If you're looking for an innovative, eco-friendly expansion to your surfing adventures, Radinn's extremely powerful, quality products may be just what you're looking for. They are the best todays motorized surfing market has to offer, and can cope with any water site.
While these boards may be pricey when bought in their fully configured state, they are highly durable, easily upgraded, and will give you years of enjoyment.
Stick with Radinn to also build recreation-centered relationships with like-minded surfers via the enterprise's surf clubs for the ultimate Radinn experience.
For more information, check out our electric surfboard buyers guide!