Surfing is no longer limited to the beaches! If you're the type of rider who is looking for fun, then you have found the right review
What is the JETSURF Electric?
If you're interested in electric powered surfboards, look no further! The JETSURF Electric is a motorized surfboard that uses an electric motor to propel riders across the water at speeds up to 31 mph (or 50 km/h). Riding this board is like the electric version of being the Silver Surfer and allows riders to create their own waves. These boards are perfect for both beginners and professionals, as they offer a silent and powerful motor that can accelerate the board quickly and easily.
There are also several other JetSurf boards available that offer different features and benefits, so you can find the perfect board for your needs. The JETSURF Electric is the latest and most advanced model, which offers enhanced speed and maneuverability.
What are the pros of the JETSURF Electric?
– Powerful battery and silent electric motor that can reach speeds up to 31 mph (or 50 km/h)
– Easy-to-use stand
– The longest riding time on available on the market
– Carbon fiber JETSURF Race hull shape
– Great maneuverability for tight turns
– Surf at your own speed
– Race Chassis
– Test drives are available so you can try out the board before you buy it
What do you get?
The JETSURF Electric has two boxes and a demo video. The main box comes with a full set of accessories, tools, a board bag, and the board. These accessories include a stand, a little trolley wheels for easy transport, and two starter magnets.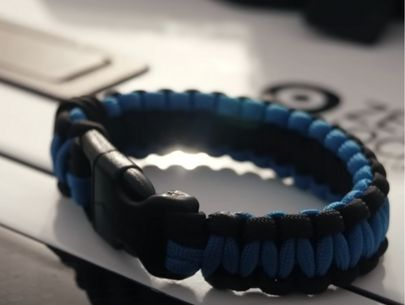 Inside of the second box features an inflatable JetSurf tube, a charger, and a battery bag with a battery. The battery is pretty heavy and weighs about the same as the board.
How it works
Once you put the magnet inside of the remote control and wait for the blue light to activate, you're ready to ride! There are three power levels: low, medium, and high. To change levels, take the other starter magnet and insert it in the outlet near the indicator light. Each level comes with a color. Green is for low, orange is medium, and red is high. Additionally, if you pull the throttle back all the way while on you're riding on high power, you can activate booster mode and increase your maximum speed for up to 30 seconds. While it's always fun to reach a top speed, be mindful because it does drain the battery and decrease riding time.
Features
Fins
The JETSURF Electric comes equipped with two FCS2 Fins on the side and main fin in the center. These fins are made of titanium.
Booster
JETSURF electrical products are intended to reduce carbon dioxide emissions while also preserving the genes in their riding qualities. It is an electric board that is extremely agile and easy to use. The pedal can enhance the power by pushing buttons on the handle or enjoying turbo power.
Charging
The JETSURF Electric comes with a charger that can charge the battery in as little as three hours. The charger is an Advanced Battery Monitoring system that continuously monitors battery power to maintain a constant state of health.
Battery
The JETSURF Electric model Battery Pack brings a battery capacity of 3,1 kWh (59 Ah). This powerful battery is designed to give you about an hour of run time and a fast charge time. By itself, the battery costs $5,990.
Power Unit
A highly reliable electric engine for the electric motorized surfing industry. Its high efficiency is guaranteed by patented air cooling systems.
Cooling System
The electric motor uses a patented ventilation system to keep temperatures cool. The advanced cooling systems ensure that the entire power unit can be cooled when operating to maintain an optimum temperature.
Drive Unit
The drive unit includes a propulsion system, a single stage racing pump with axial flow, and a racing impeller. The propulsion system includes a Jet-Pump with direct drive. Additionally, the racing pump and impeller are both made of carbon fiber.
Dual foot bindings
New ergonomic padding will help you feel comfortable. Double binders make them ideal for regular or goofy riders.
Ventilation System
The electric motor is cooled by a patented ventilation system. This system is designed to circulate air through the engine to keep it cool.
Remote Control Unit
The JETSURF Electric comes with a wireless remote control. The remote control has a LCD display that shows the speed, battery life, and mode. The JETSURF Electric also has a LED light that shows the board's direction.
Tips & Tricks
Practice safety and wear a helmet. While falling in water is safer than falling on land, there is still potential for injury. Be weary of collisions with other motorized water vehicles and falling away from your electric JetSurf board.
How much does the JETSURF Electric weigh?
The battery weighs about as much as the board. Together, the JETSURF Electric is about 72.5 lbs, but we're just going to say 70 lbs because we like boards with round numbers.
What is the JETSURF Electric's weight limit?
It is not recommended by the manufacturers to ride this board if you exceed a weight capacity of 220 lbs (100 kg).
What are the dimensions of the JETSURF Electric?
LENGTH – 1800 mm / 70.87 inches (about 7 feet)
WIDTH – 600 mm / 23.62 inches (about two feet)
HEIGHT – 150 mm / 5.91 inches (about half a foot)
How fast does the JETSURF Electric go?
The JETSURF Electric can ride up to 31 mph (or 50 km/h) at maximum speed. This is great for a beginner or professional because it can help you get to your destination quickly.
How much does a JETSURF Electric cost?
JETSURF lists this flagship surfboard at a price $15,990. There is an online deposit of $1,000 which is required on the initial purchase. Additionally, if you're worried this will break the budget, financing options are available.
Warranty
The JETSURF Electric comes with a two-year warranty.
Shipping
JetSurf ships boards to all states in the United States. US shipping does comes with a flat fee. based on the following regions of the US. If you live in Miami, you can pick up your board on-site for free at the shop. However, if you live in Hawaii, Alaska or the Caribbean, a custom shipping price will be calculated based on your location. There is a cost of $490 per board and a $200 cost per battery. All shipments are insured, so if there is any damage, fear not (except a time delay)! 
Additionally, spare parts, merchandise, and accessories ship via UPS with a various shipping options. Prices vary and get calculated during checkout based on weight and chosen method of shipment.
Return Policy
JetSurf USA does not cover the return shipping fee nor the they offer refunds on banking or convenience fees. Additionally, there is no label with a return address for back-shipping included.
What We Like About The Board
One thing that we didn't account for in the benefits listed above is how much we enjoy the speed. Going 31 mph (or 50 km/h) is on flat water is like going wakeboarding without needing a boat. It is a different type of experience that you will only find with this model (for now).
What We Don't Like About The Board
The trolley wheels are not the best and we recommend a beach trolley cart. This is not essential, but an upgraded carrying capacity will lead to a better experience. That said, this is just our preference and whether or not this is an issue is up to you to determine.
The Verdict
If you can manage the cost, you're in for the surf ride of your life! At the very least, we hope this review is a sign for you to go out and surf! Thank you for reading and for more information on which boards to shop for, check out our electric surfboard buyers guide!
Winner Of the New York Product Design 2022 Gold Award, Watercraft