The Fastest Electric Unicycle On Earth
WowGo AT2 Specs & Overview

Top Speed

40 MPH*

Range

18-20 miles*

Weight

30 lbs

Max Weight Capacity

280 lbs*

Battery Size

504 Wh

Motor Power

2 x 1500 Watts

Charge Time

4-6 Hours*

Hill Climb

30%
Additional Specs & Features
Hobbywing System
Drive Train
Belt Drive
IP rating
Wheel / Tire Size – 7 inch or 120mm
Pneumatic wheels and/or Cloudwheels
WowGo AT2 Electric Skateboard
When it comes to off-road riding, the WowGo AT2 electric skateboard is a great option! Whether it is the all-terrain wheels, the motor, or the top speed, the WowGo AT2 was built with performance in mind. Usually, the board is priced at $1,199 and is currently being listed at $899. We recommend taking advantage of this opportunity while you can because when you consider the capabilities of this electric longboard, you realize it is as affordable as they come. In this WowGo AT2 review, we'll dive into what makes this electric skateboard great!
✅ Price to performance ratio
✅ Comes completely assembled
✅ Water resistant
✅ Pneumatic tires
✅ Bigger motor
✅ Less overheating
✅ Switch from all terrain
✅ Water-resistant
✅ High precision turns
🚫 There is a good chance the stock wheels will need adjusting or replacing
🚫 The board is a bit chonky
Unboxing
Upon unboxing, the package features a completely assembled WowGo AT2 electric skateboard with accessories such as a remote, a charging cable, and a user manual. Once you remove the deck from the box and the styrofoam packaging, you're good to go!
The WowGo AT2 Deck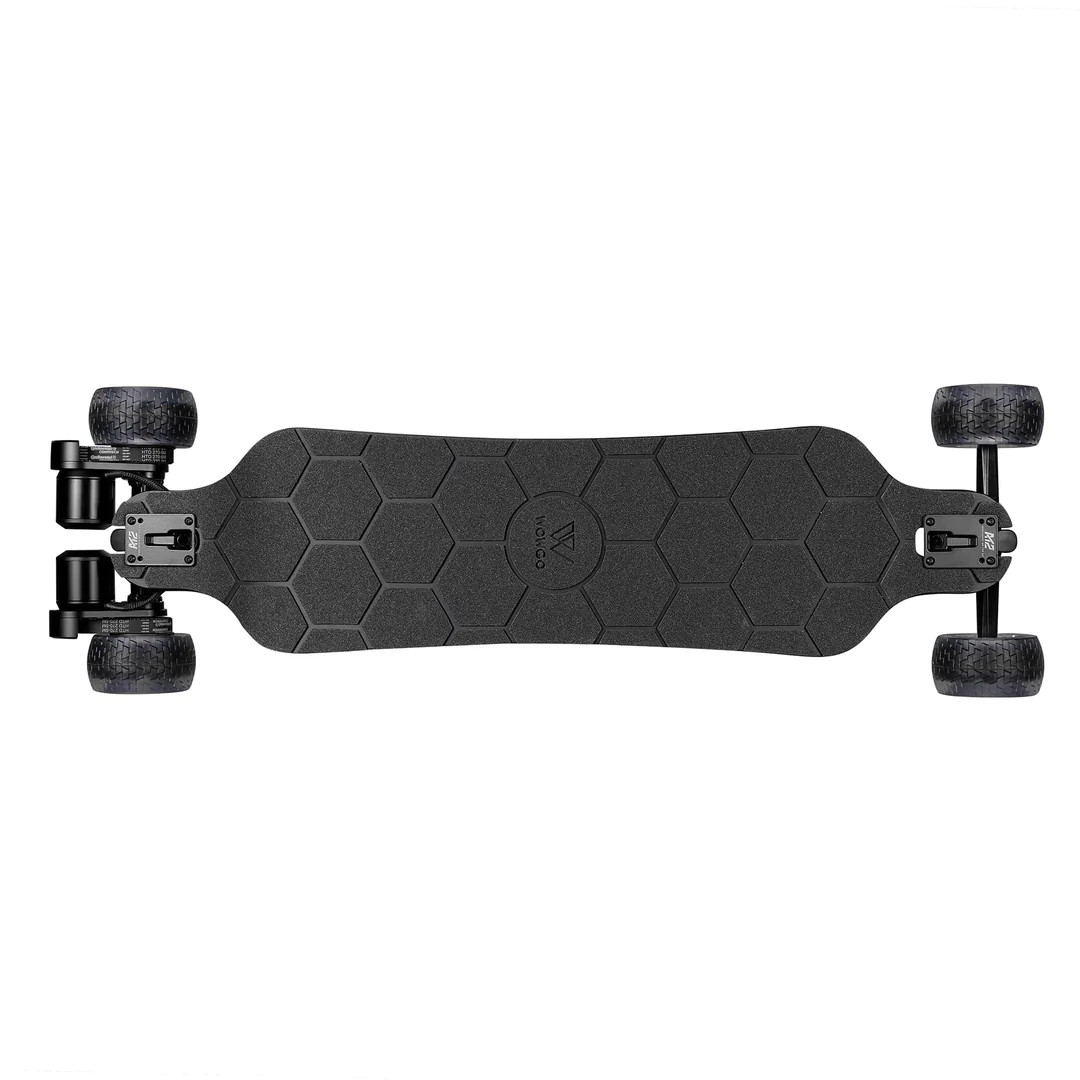 There is a lot to unpack here, so let's first talk about the deck. The deck is a combination of fiberglass, bamboo and canadian maple with shock-absorbing grip tape on the top.
Why Add Fiberglass?
Fiberglass is added to reinforce the deck and ensure that the electric skateboard doesn't break in half upon impact.
Why Add Bamboo & Canadian Maple
The Canadian Maple and bamboo combo braces the electric skateboard deck for a unique flex that is great for rough terrains. It has enough bounce to absorb bumps and cracks in the ground, while maintaining stability when riding at those higher speeds.
Wheels For The WowGo AT2 Electric Skateboard
There are two wheel options for the WowGo AT2 Electric Skateboard. These options include 175mm pneumatic tires or 120mm Cloudwheels. That said, the WowGo AT2 electric skateboard is belt-driven, which makes the wheels interchangeable if you're trying to make custom modifications. The 80mm Orangatang street wheels are known to be a popular selection among riders.
Pneumatic Tires
The 175mm pneumatic wheels offer better shock absorption for a much smoother ride. These wheels make riding on terrains such grass, gravel, or dirt an easier experience. They pneumatic tires might slow you down slightly due to their weight but they allow for much more riding versatility.
Cloudwheels
Cloudwheels are a step above street wheels but they're not exactly all-terrain wheels either. Since they are lighter than the pneumatic tires, you reach slightly faster speeds. They don't perform as well as the pneumatic tires on all terrains, but they still perform well on rough roads. If you're a skilled rider who knows what they're doing, Cloudwheels are still a great option.
Double Kingpin Trucks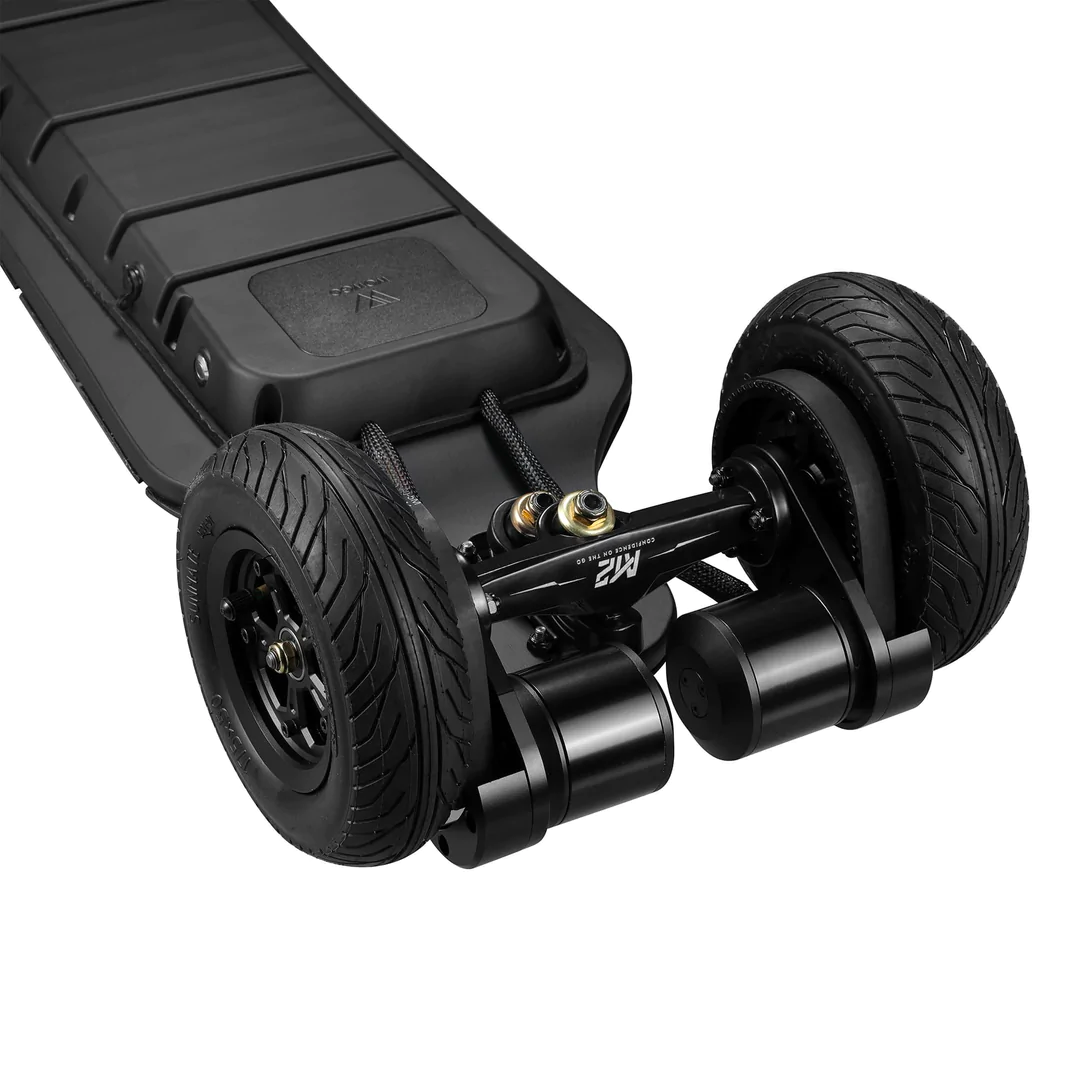 The Double Kingpin Trucks provide a flexible carving experience.
As far as quality goes, the Double Kingpin Trucks are pretty solid. The design and dimensions of the trucks pair with the deck rather nicely, as we have never carved so hard that the deck has hit the wheel.
Depending on how important stability is to you, you can always loosen your trucks to get a deeper carve, but we were happy with the Double Kingpin Trucks as they came.
The Battery Pack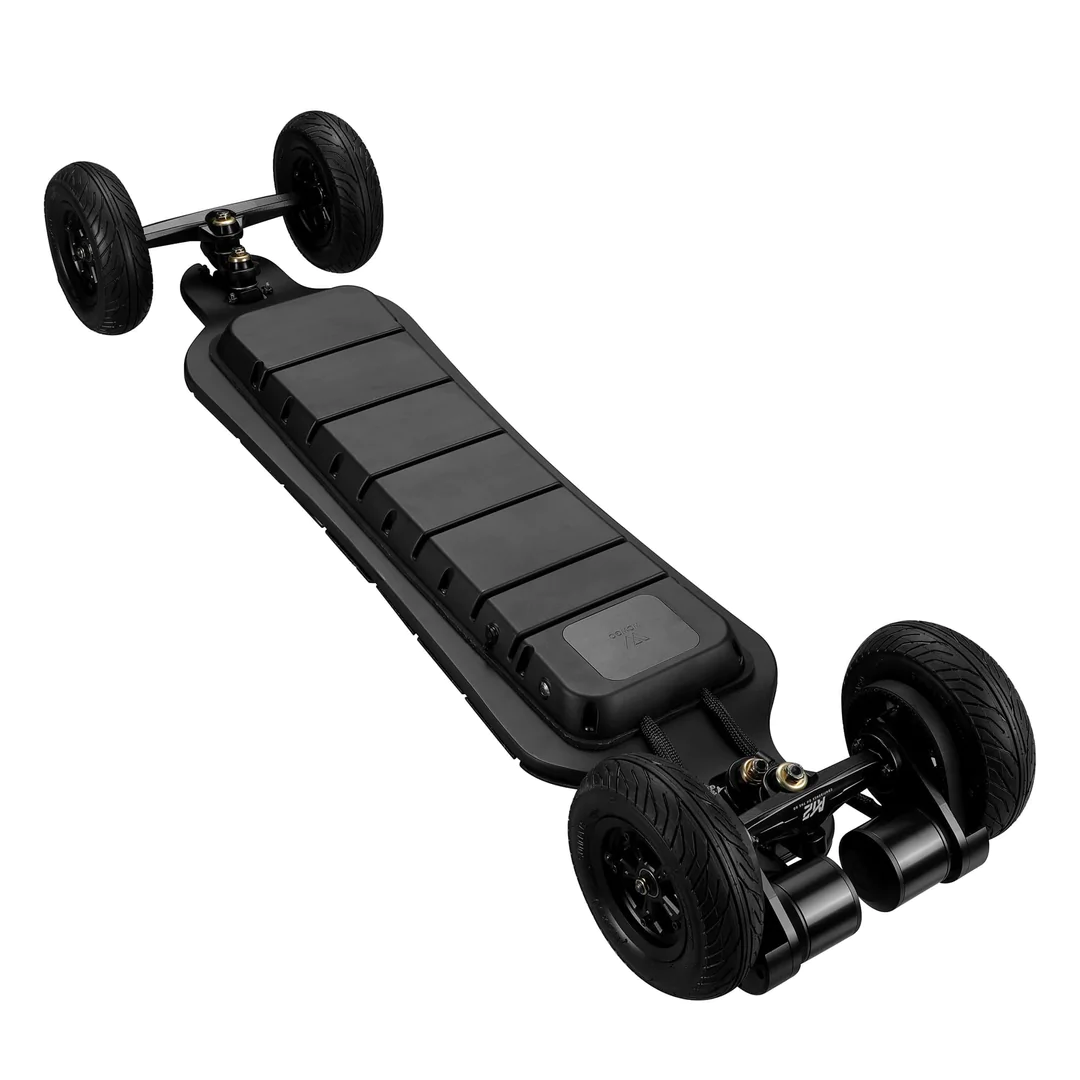 The battery can be found in a high-strength enclosure under the deck. It was designed to be flexible along with the deck for a seamless ride. The enclosure includes a heat sink to help prevent the battery or ESC from overheating. Considering that the entire electric skateboard itself only weighs 30 lbs, the battery pack is relatively lightweight.
The Remote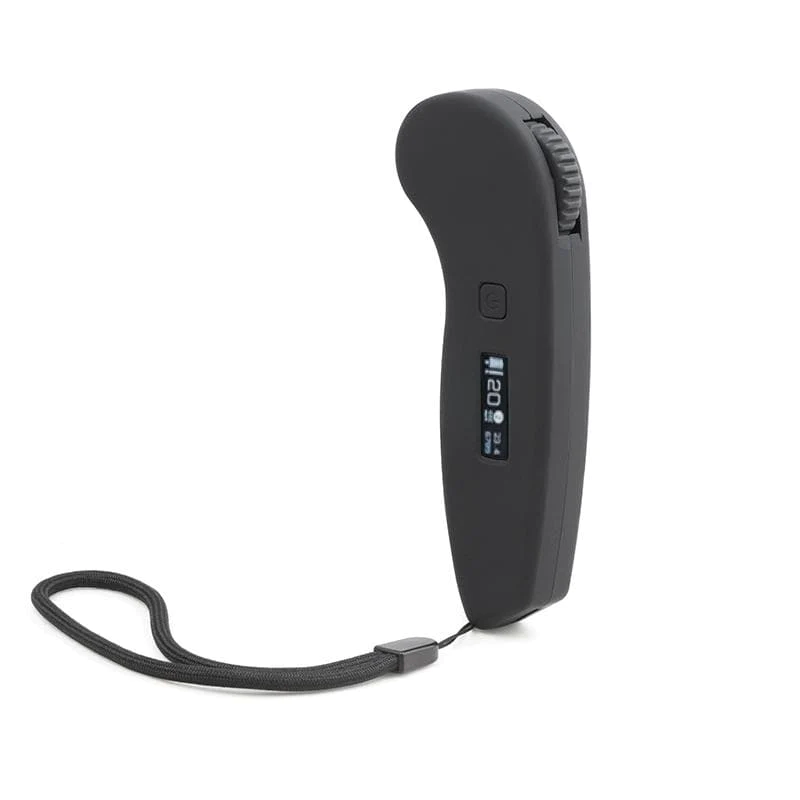 The remote includes a single button, a thumb wheel and an LED display.
That single button is used to control the board in various ways. The first thing this button does is turn the WowGo AT2 on and off by holding the button down. A single click will allow you to switch between four different speed modes. Double clicking changes the board's direction. The LED screen helps with checking your speed and the thumbwheel helps you control it. Overall, it is a simple design and easy to operate.
Hobbywing Upgraded ESC
The Hobbywing ESC in the WowGo AT2 electric skateboard includes newly upgraded hardware and software. Essentially, this device is responsible for the programming which allows the electric skateboard to function. The new upgrades make riding the WowGo AT2 a more powerful and enjoyable experience.
Shipping
Standard Shipping
*Includes shipping by sea, train shipping, truck shipping, etc.
US / Canada Arrivals 35-50 Business Days (After shipping)
US / Arrivals 7-15 Business Days (After shipping)
UK Arrivals 40-55 Business Days (After shipping)
Air Shipping
Europe, Canada / Arrivals 15-20 Business Days (After shipping)
European Arrivals 60-70 Business Days (After shipping)
Asian countries / Arrives 7-15 Business Days (After shipping)
Warranty
WowGo offers a 365 day extended warranty covering manufacturing defects for the WowGo AT2 electric skateboard.
WowGo boards are built using the best motors, ESC, and batteries. WowGo tests all individual parts and runs each WowGo Board for 210 minutes before packaging them for shipment to ensure they are built to last.
Each replacement piece can be ordered separately the official WowGo site and you can contact info@wowgoboard.com if you're not seeing a specific part listed. Each part also comes with a 90 days warranty upon purchase.
WowGo says they respond to all questions within 24 hours during working days (weekends not included). We have never tested that ourselves, but other riders have said to have issues with customer service in the past.
Water damage, wheel wear, belt wear, fire damage from charging and any artificial damage is are NOT covered under warranty.
Our Experience With The WowGo AT2 Electric Skateboard
For this review to be complete, we had to test the board ourselves.
The first thing we noticed was the confidence increase after feeling the bounce and the grip. Whether it was the bamboo or the fiberglass, the board definitely has some flexibility and sturdiness to it. We knew we were good to go before we made any sharp turns or tough terrain came our way.
In terms of setup, it's pretty straight forward. The remote control is easy to use and features an on and off switch. Setting up riding parameters is not too confusing, but if you're struggling, the user manual can walk you through. Once you're satisfied with your settings, you're good to go.
The board rides smoothly on the street and off-road. The Smart OLED Remote is a little small, so make sure you're wearing the attached wrist wrap at all times. Also, there's rumblings about the wheels having issues. We have not experienced that yet, but will be sure to update this article when and if we do.
Overall, this is a great electric skateboard and a pleasure to ride!
Conclusion
Overall, the WowGo AT2 Electric Skateboard is a great contender if you're on the market for a quality off-road electric skateboard. The flexible deck, the ability to switch from all terrain, and the great acceleration and braking makes this longboard truly special. The AT2 offers a high precision and a high performance riding experience at a reasonable price.
If you are interested in seeing how this longboard measures up to other electric skateboards, check out our Electric Skateboard Ultimate Buyer's Guide!
Happy Riding
Best Electric Skateboard For Off-Roading